The New City Branch was a 3-mile single track of the NJ&NY Railroad that ran between Nanuet Junction and New City. The line opened in the spring of 1874, although the first recorded train did not run until over a year later on May 3, 1875. There were five station stops on the branch; Nanuet Junction, Bardonia, Germonds Road, Durant Road and New City. Passenger service reached its peak in 1928 with 11 weekday trains and 5 on Sundays. In 1939 after 64 years of service, the New City Branch was closed and the tracks removed. With the advent of the automobile and improved roads, the line became obsolete. Yet the railroad was important in the days prior to cover the distance between Nanuet and New City.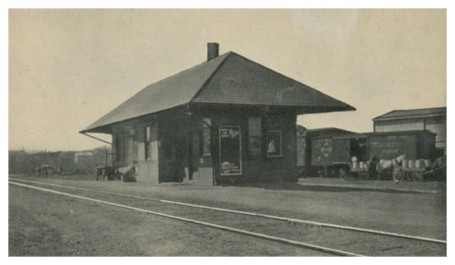 The 1890 Nanuet Junction map below shows the New City, Piermont, Suffern and Pascack Lines all coming together at the wye in Nanuet. The New City Branch ran north paralleling present day Route 304. One of the last remnants of this branch was finally removed in Nanuet in January of 2007 as Middletown Road was being repaved. There was one set of New City tracks that remained crossing Middletown Road up until that point.
For more information on Rockland's early rail years, pick up
"The Pascack Valley Line" by Wilson E. Jones.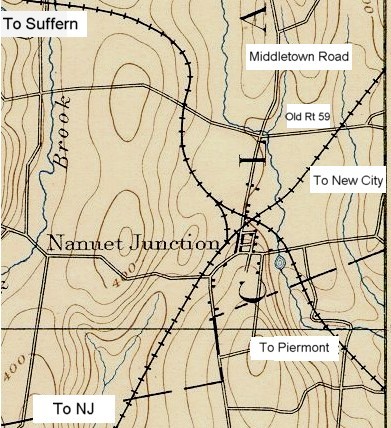 *1890 Topographic Map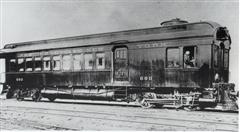 Steam powered passenger car of 1897.